---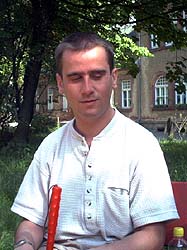 Hello!
Sorry for my bad english. I will give my Best.
but now some facts about me:
My name is René Ludwig, and i was born on 9. March 1975. I come from a small Village namdd Muelsen, which is located near chemnitz, Germany. Chemnitz is the town where i live and do my Job.
There are a lot of things i like to do in my spare time. For example listen to good music of different genres, such as Depeche Mode, Dido, Garbage and german rock music. Sometimes i try to sing pop songs, just for fun. Other things i like are: watch / listen to a good film at tV or Cinema, go to a restaurant or just take a walk.
My Job:
After School i learned an Office Job (called in German "Kaufmann fuer Buero kommunikation"), Currently i work as a Support and sales person at Optelec, one of the world'S leading Companys selling Computers and adaptive Equipment for blind and visually impaired people.
BTW.
I am blind and I have created this homepage with the help of a speech synthesizer and a braille display. This equipment and The Screenreader Hal from Dolphin gives me Access to Windows.
So You may understand why there are not many Graphics on this Homepage.
now You know already much more about me.
My skype name is "rene4u". Or just follow me on Twitter.
Have fun!
Cu.
Rene
You can leave me a Message at mail at renes.info
© Copyright 2016 Rene Ludwig